Ravenna Borzoi is a small hobby kennel in Omaha, Nebraska. Actually, it's where a lot of lovely Borzoi reside in a large house with a giant yard and they have this one person who vacuums a lot. I have been passionate about animals since I was a child. It was my mother who started the dog show thing, though. She squirreled away some of the grocery money until the day she secretly went out and bought an Irish Setter! What a fabulous surprise! My mother took Legs to obedience class, and then showed her to her CD. Those were my first shows and talk about the proverbial kid in a candy store! I fell hard for Afghans and have enjoyed several. My very favorite was a black male from the Crown Crest line named Danny. His quirky intelligence made obedience training really interesting. He did well, though, earning his CD in three shows and even placing third on one leg.

I lived in Ann Arbor when I had those Afghans and was a member of the local kennel club. Russ and Clea Everhart invited to their house one day and that's where I really a taste for what Borzoi are like. Of course, I had no idea what an impact they had on the breed. I waited for a long time until I had enough time and space to have a Borzoi. And then – you know how it is – you can't have just one! I bought my first Borzoi Harlo from the late Jim Galsche. There were some issues and Harlo lost a hind leg at 6 months old. Because of that, Sue Caulkins, out of the goodness of her heart, gave me Willow, who went on to become Ch Winterwind Beyond Th Willows. She is my foundation bitch. She was a Top Producer in 2007, and is the only bitch to my knowledge to have produced two Futurity Winners. She still is in charge of the stair landing, making sure she keeps track of all the coming and goings!

Please explore my site and get to know my wonderful dogs. I strive to breed healthy, correct dogs with sound minds and bodies. My dogs participate in showing, lure coursing, straight racing, obedience and rally. It's a wonder I even have time to vacuum!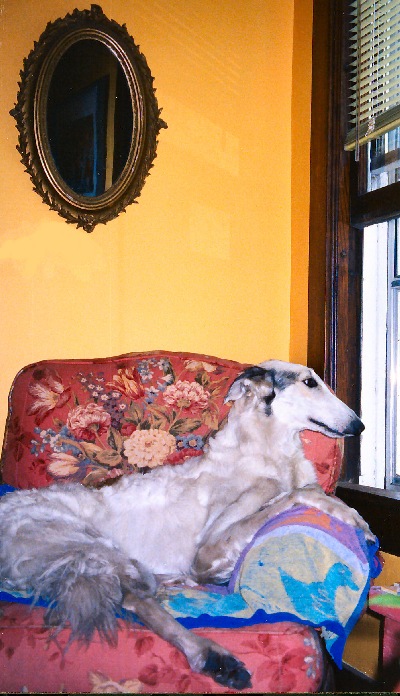 Ravenna Borzoi ~ Caryl Dumaine, Omaha, NE
ravennaborzoi@gmail.com 402-214-8358